Kentucky's leading man
7 February, 2019 by Nancy Sexton
Oscar Performance retires to Mill Ridge Farm to continue the historic stud's penchant for green grass influence
Oscar Performance has put Mill Ridge Farm back in the stallion game
The stature of Mill Ridge Farm as an esteemed part of the Kentucky fabric remains undimmed as it enters its 57th year of operation. Founder Alice Chandler, 93, worked her way into racing history on a series of occasions, whether as the first American woman to breed an Epsom Derby winner, courtesy of Sir Ivor no less, or as the first to own, breed and train a stakes winner in North America.
Few would argue that her success, and that of the Mill Ridge brand since then, has been the product of hard work alongside an innate appreciation of the sport, assets undoubtedly inherited from her father Hal Price Headley, one of the founding fathers of Keeneland.
And today the operation remains in very safe hands via her son Headley Bell, managing partner of the farm since 2008 who is assisted within his bloodstock agency, Nicoma Bloodstock, by his own son Price. Another of Chandler's sons, Reynolds, is also a highly successful bloodstock agent.
From Sir Ivor to Kentucky Derby winners Barbaro and Giacomo, and more recently American Horse of the Year Havre De Grace, the list of top-notchers to have come off the land at Mill Ridge is vast. Yet, for all their success, the beating heart of the operation for many years was the stallion row, home at its peak to Gone West and Diesis.
Over the course of the late 1980s through to the 2000s, those international heavyweights underpinned a busy stallion roster at Mill Ridge. But they say all good things come to an end and when Gone West died at 25 in 2009, it marked the end of an important era for the farm; by that stage, only Gone West's son Johar, then a $10,000 stallion, held court at Mill Ridge, and when he died in 2014 they officially left the stallion business.
For a farm whose roster once wielded such influence on the international stage – Diesis left behind Epsom Oaks winners Diminuendo, Ramruma and Love Divine, while Gone West's legacy runs strong through the deeds of Speightstown, Zafonic and Elusive Quality – it was a sad development, although one that was recently negated to a degree by the retirement of their homebred Grade 3 winner Keep Up.
However, last autumn brought the very welcome news that Mill Ridge is really back in the game with the addition of the brilliant turf runner Oscar Performance, a true American rarity in that he recorded Grade 1 victories at two, three and four without the assistance of the raceday medication Lasix.
His greatest asset was his ability to lie close in his races
Not only that, the five-year-old son of Kitten's Joy was also foaled and raised at Mill Ridge on behalf of long-time clients John and Jerry Amerman from a mating devised by Headley Bell.
"We were in the stallion business," says Price Bell, "and in that pattern of retiring a new horse every year. We ran that race in the 1990s, and we just got to the point that if those didn't hit, we couldn't keep going in every year.
"Now there's no 'have to' about it. We can focus on what we really believe in." And in Oscar Performance, the farm understandably feels that it has that exact package.
Here is a horse who capped his juvenile season for trainer Brian Lynch with a victory in the Breeders' Cup Juvenile Turf, before returning at three to land the Belmont Derby and Secretariat Stakes.
He continued in a similar vein at four when winning the Woodbine Mile and Poker Handicap, in which he lowered Elusive Quality's record mark for the Belmont Park mile. In all, he won eight races for $2,345,960 in earnings.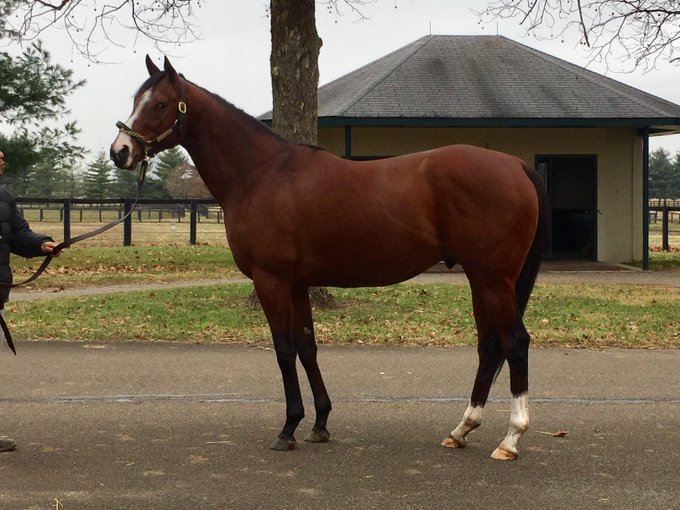 "He's the first American colt to win Grade 1 races at two, three and four since Graded stakes races began," says Headley Bell. "I think his greatest asset was his ability to lie close in his races.
"He's a speed horse but one that didn't have to be on the lead. He didn't need a race to be set up for him. He had this great pace and then a turn of foot."
He adds: "We're excited about the timing of it all. Turf racing is continuing to evolve and be appreciated. And the timing of this horse, especially as a good son of Kitten's Joy, could mean that one day he fills a void – who knows who the next champion turf sire is going to be."
Mill Ridge has installed Oscar Performance at a fee of $20,000. One of only two Kentucky-based sons of Kitten's Joy, the Ramsey phenomenon who reached new heights in 2018 as the sire of Roaring Lion while reigning as North America's champion stallion, he will be supported by a powerful syndicate of shareholders, among them Coolmore's Orpendale, George Strawbridge, Justify's breeders John and Tanya Gunther, Dixiana Farm, LNJ Foxwoods, Everett Dobson of Cheyenne Stables and Craig Bernick of Glen Hill Farm.
"That's really important," says Headley Bell. "It's all about building foundations. "We consider standing a turf stallion an opportunity and certainly it is becoming more favourable to do so here.
"I think that's something we saw in the yearling market last year."
He adds: "I suppose we do have an affinity for turf horses – that would probably go back to Diesis. But first and foremost we try to breed a racehorse and really what I look for is a quality stallion who is value.
"With this horse, it really was the perfect setting. We had raised him and he was owned by the Amermans, friends we have known for so long. So often in these situations you can get trumped by the dollar. And the Amermans turned down a lot for him from Japan."
With the deal in place for Oscar Performance to retire to his birthplace, the Bells embarked on gathering interest in the horse.
A group of 15 shares priced at $75,000 were sold over a period of ten days in the summer, and when Oscar Performance subsequently scored in the Woodbine Mile, another batch of $100,000 shares priced swiftly changed hands.
"It was about trying to make a square deal for the shareholders and the Amermans," says Price Bell.
"As Craig Bernick recently said to us, syndicates need those breeders who own those well-related mares that they are happy to send in these horses' third and fourth seasons. And I think we found that – people with quality programmes."
Oscar Performance will be limited to 140 mares, with ten owned by the Amermans. He is also unlikely to shuttle.
We consider standing a turf stallion an opportunity
"We're doing everything we can that we really think is the best for the shareholders and the horse," says Headley Bell.
"That's our approach. We're in the long-term business ourselves, always have been. For instance, Price is the sixth generation horseman in our family."
The team really comes alight, however, when discussing the horse's pedigree. After all, the decision to send his dam Devine Actress, a stakes-winning daughter of Theatrical, to Kitten's Joy was the brainchild of Headley Bell – it's probably no coincidence that the first Graded stakes winner by Kitten's Joy bred by someone other than the stallion's owners Ken and Sarah Ramsey was Kitten's Point, a 2010-foaled filly bred by Bell's client, George Strawbridge.
"For me, the Lear Fan presence as the damsire of Kitten's Joy was huge," he says. "Lear Fan was a tremendous racehorse and I thought he became a tremendous source.
"I've always tried to pull back in as much Roberto as I can to a pedigree. The same goes for Ribot."
In the case of Oscar Performance, the cross of Kitten's Joy over Devine Actress also produces multiple lines of breed- shaping sires Bold Reason, Tom Fool, Nashua, Buckpasser, Nantallah and Turn- To, in addition to the matriarchs Rough Shod and Special.
"It's a great pattern," says Headley Bell. "At the time, we felt that Kitten's Joy was a value stallion and he blended well with the mare's pedigree. [Grade 3 winner] Oscar Nominated was the first foal and he was so attractive that we went back, with the result being Oscar Performance.
Oscar Performance after winning at Sana Anita in 2016 – Photo: George Selwyn
"Devine Actress is a gorgeous mare and really Oscar Performance is her. But what we really love is this blend – I think when you're doing your mating plans, you're really just trying to get as many good ingredients into the pot as you can.
"And when you're throwing things like all those double crosses in there, it just gives you every chance."
Price is understandably similarly enthused. Having followed the horse closely since he joined Lynch's barn, he is in awe of some of the horse's performances, ranging from his juvenile season, when a ten-length maiden win at Saratoga first showcased his ability, to his subsequent Grade 1 victories.
"Right now, 39% of Graded stakes in America are turf races," he says. "But you look at the turf sires in America and there are very few sires that are still active.
"War Front and Kitten's Joy are great if you can get in. But against that, the likes of City Zip, Arch, Giant's Causeway and Scat Daddy are all dead."
He adds: "I also think the timing couldn't be better given what Roaring Lion achieved last year. War Front has his own kind of following and Scat Daddy is the same.
"But for Roaring Lion to be a son of Kitten's Joy, it just all fell into place. He danced every dance and was so tough. He was awesome to watch.
"Who knows what makes a good stallion? With Oscar Performance, you have the no Lasix and the ability of a record-holding miler. And he's beautifully bred and a beautiful horse.
"You try to put as many things in the pot and then let luck play its part."